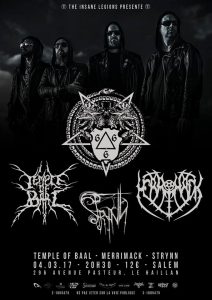 More than a year without any news, we imagine the joy on your face when you're thinking "Maybe they stop music, if music is the right word…".
Sorry, we still here, ready to make your ears bleed.
Anyway, we play the 04/03/2017 at Salem (Le Haillan, France) at 20h30 with two true musical bands, Temple of Baal ("Religious Black Death Cult") and Merrimack (Black Metal)
Entry cost : 12€
For more details about the show, I advice you to not come.
If we will, you can find all the details on Facebook.
Kisses.