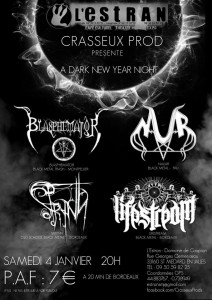 Hail black-metalheads,
We will play the 04/01/2013 at L'Estran (France) for a too dark new year's day with Blasphemator (Black Thrash – Montpellier), Lifestream (Black Metal – Bordeaux) and Nauar (Black Metal – Pau) (more details here).
So we advise you to preserve your audition and definitively stop to listening Black Metal.
That's all, get out.