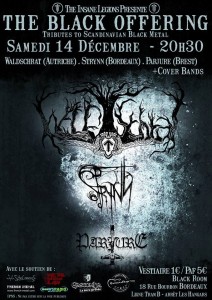 Hail !
Because a good / bad new never comes alone, we announce you a show with tributes to Scandinavian Black Metal.
So we will play the 14th of december, 2013 with Waldschart (Austria) and Parjure (France), which play a good black metal, it's pretty rare today.
That's all for now, no more details, but at least you have enough time to find an excuse and not come.
So, see you later bitches !
EDIT 24/10/2013 : More details here.