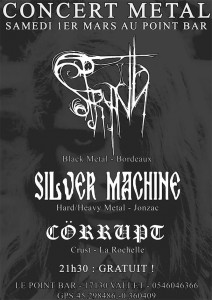 Un peu tard mais je m'en branle.
On joue le 01/03/2014 au Point Bar (c'est en Charente, à Vallet) en compagnie de Cörrupt (crust, La Rochelle) et de Silver Machin(e) (heavy metal, Jonzac).
Ça commence à 21h30, c'est gratuit (sauf l'essence), et voilà.
Plus d'info par ici.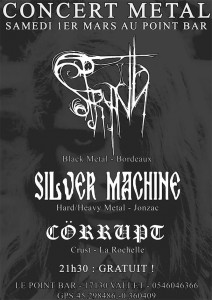 I'm late but I don't care.
We play the 01/03/2014 at Point Bar (in Charente, at Vallet) with Cörrupt (crust, France (La Rochelle)) and Silver Machine (heavy metal, France (Jonzac)).
Begin at 21h30, it's free (except fuel), and that's all.
More details here.