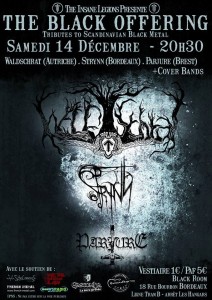 Hail !
Une bonne / mauvaise nouvelle n'arrivant jamais seule, on vous annonce un concert avec un hommage au Black Metal Scandinave.
On jouera donc le 14 décembre 2013 en compagnie de Waldschrat (Autriche) et de Parjure (Brest), qui font du bon black metal, ce qui est assez rare pour le souligner.
Voilà voilà, pour l'instant, pas beaucoup plus de détail mais au moins vous avez le temps de trouver une excuse pour ne pas venir.
Allez à plus les baltringues !
EDIT 24/10/2013 : Pour les détails, c'est par ici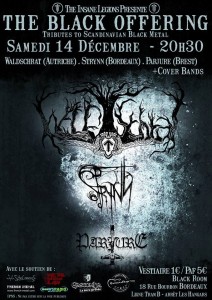 Hail !
Because a good / bad new never comes alone, we announce you a show with tributes to Scandinavian Black Metal.
So we will play the 14th of december, 2013 with Waldschart (Austria) and Parjure (France), which play a good black metal, it's pretty rare today.
That's all for now, no more details, but at least you have enough time to find an excuse and not come.
So, see you later bitches !
EDIT 24/10/2013 : More details here.