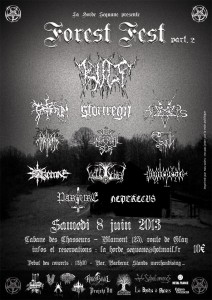 Hail black pandas !
The 2nd edition of Forest Fest (only black metal bitches), organized by the association 'La Horde Sequane' takes place the 8th of April 2013 at Blamont (France).
The ticket cost 10,00€ (~$13,00), you can reserve it (places are limited) by the association's mail : la_horde_sequane@hotmail.fr
We play with a black metal horde :
That's all, hope you will break your leg just before you come.
I will post the visual later.
More infos on association's page.
P.S. : And don't forget, Decadence will come out the 15th of April 2013 (give us some money)